DCS, Inc. Is A Consulting Case Management Corporation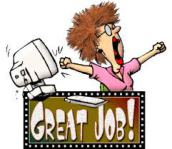 I received a call and several emails from readers of Lindanee's Blog who were completely unaware that I have a business assisting insureds and claimants with their private disability claims.
This was rather surprising to me since there are several tabs at the top of the blog home page that describes my services in detail. Perhaps these tabs are missed by between 300-1,000 readers per day.
As a reminder, let me say that both DCS, Inc. and NCDI, the non-profit sister corporation of DCS, Inc. are alive and well and still operate with a 98% success rate. Just recently, benefits were approved for new client business for nearly $2M in financial reserve.
DCS, Inc. assists clients with the management of their claims. This means I provide pre-emptive services to keep and maintain benefits insureds are entitled to rather than appeal management subsequent to denial.
Understanding the claims process and managing claims accurately and promptly makes more sense than trying to overturn an unnecessary denial. It is very unfortunate when insureds are forced to seek out expensive attorneys to file unfair or unnecessary appeals.
As a former educator I have a library of electronic books I've written solely for my clients. In addition, I publish a client monthly newsletter that keeps clients well-informed of information not otherwise available on the blog.
Please read the tabs located at the top of the page and decide whether you could take advantage of the services I offer. It' doesn't make sense to risk claim denial when consulting services are available to assist you in managing your claims with expert advice.

I look forward to hearing from you.
Filed under: Daily Buzz

Source: Linda Nee