June Carrot & Stick Awards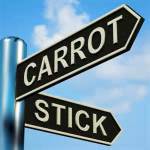 Northwestern Mutual is the only insurance company that still reviews claims fairly. Although the company is reported to be in a state of organizational chaos, I find that the company is able to get checks out on time, reps are courteous and polite, and claims are paid when substantial proof is provided.
It is always a good sign when I don't receive multiple calls complaining about a particular company. Northwestern Mutual seems to be operating and reviewing claims in good faith and is deserving of a DCS, Inc. carrot for the month of June.
I'm going to go ahead and give Lucens Group a DCS carrot for taking the time to call and explain about its use of an Authorization with a SSA number on it. I realize my blog article did not put the company in a good light, but then again Lucens doesn't yet realize it has the worst disability insurance company (Unum) in the world for a client. I'm hoping Lucens eventually gets the drop on Unum Group.
A stick goes out to Reliance Standard, a company who doesn't seem to realize the accountability or necessity of documenting Administrative Files. RSL doesn't document claimant files very well, an action that is a violation of ERISA. When questioned, its only response is that they DO document files but through their written communications to claimants. Not good enough.
A disability file should provide a permanent record of every action, meeting, documentation, including electronic, investigation records, and surveillance, that has ever taken place to investigate claims. Although RSL provides electronic lists of WHAT was done, it does not actually include details about the action. I regard the lack of file documentation as a deliberate attempt of non-disclosure.
In addition, RSL denies claims prematurely and without substantiation. Any information relied upon to deny claims that is not disclosed in the claimant's file is null and void and cannot be used to deny claims. Sorry, RSL, you can't have it both ways – and you get a DCS, Inc. stick award for deliberately trying to hide claim activities.
Unum Group is also deserving of a stick award for doing everything wrong. Reports coming out of Unum are that the company is in compete chaos and organizational change. I didn't think it could get any worse, but I was wrong.
Guardian is awarded the final June stick for over investigation, intimidation, personal attacks on insureds, and deliberate misinterpretation of policy provisions. This is a company you really need to watch by verifying policy provisions with benefits received. Guardian's claims reps have some very strange ideas on how to adjudicate policy provisions. In addition, I've received reports that Guardian's reps are rude and hang up on their insureds.

Filed under: Carrot & Stick Awards, Uncategorized

Source: Linda Nee