The Standard And Unreasonable Deadlines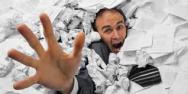 Recently, it came to my attention that The Standard outsources medical records requests to a company called Release Point. Despite the fact that all ERISA Plans give claimants 30-45 days to submit proof of claim, this company is calling treating physicians and threatening to terminate the claims of patients if medical records are not submitted in (5) days.
When I contacted The Standard claims rep she did not know of the practice and basically said, "We've never heard of that complaint before." Although the rep admitted that the (5) day deadline to submit paperwork was out-of-contract, it's unlikely anything will be done to stop Release Point from making threats. Claims handlers simply do not have the clout to instruct an outsourced agency of what they should and should not do.
The purpose of this post is to also communicate that when the insured was contacted by her physician's office staff and told of the deadline she went into a panic. "They are going to try to deny my claim….my doctor may not be able to get the information on time…how can they do this to me now?" The phone call also took place around 3 p.m. on a Friday afternoon so you can imagine what the claimant went through over the weekend.
To begin, ERISA Plans are very explicit about timelines. Plans most often contain provisions requiring claimants to submit information at their own expense within 30-45 days of the date of the letter requesting the information. This deadline also applies to claimants' treating physicians.
No insurance company can deny an ERISA claim out-of-contract for failure to provide patient proof of claim within (5) days. To be clear, I'm assuming the (5) day request was the only one that was made. If The Standard had previously requested patient records in 30 days, but failed to receive them, AND THEN gave 5 more days, it might be more reasonable although in my opinion the request for records should be tolled another 30 days.
Remember my recommendation that all claimants read their policies and understand the provisions? Had the claimant remembered her policy timeline of 30 days perhaps she could have made the following response to her doctor's very panicked office manager, "No, this is just a threat, my benefits cannot be denied unless I am over 30 days. Please fax me the information The Standard is requesting and I will provide it to them myself." I think everyone would have been a bit calmer and less threatened.
I do understand the impact of insurance threats though and the emotional damage they do. For the last 25 years I've been writing that "knowledge is power" when it comes to disability claims, but when the "fire bell in the night" occurs, it's hard to think on your feet. I get that entirely.
Please remember that all ERISA Plans allow 30-45 days to provide proof of claims. IDI claims allow 90 days after the end of a month in which disability is claimed. Think about this when your unethical insurer or its outsourced facility decides to strong-arm you, or your physician, for medical records.

Filed under: Claims Process

Source: Linda Nee